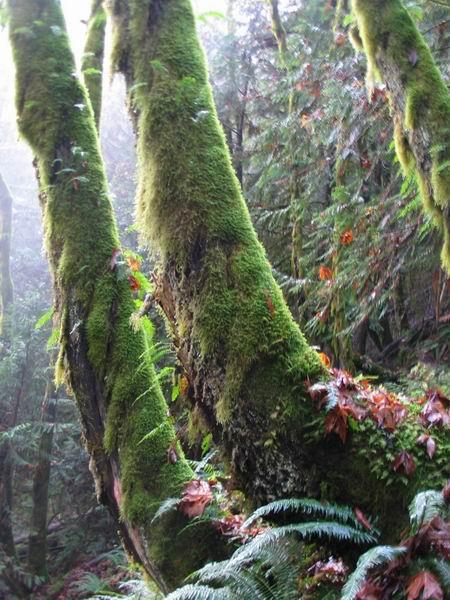 We've gotten into a bit of rut over the last few months here, though it's the good kind of rut: we've been going on hikes most weekends, exploring the outdoors. The southwest coast of Canada is just perfect for it: mountains, oceans, forests and relatively temperate weather. I bought some new hiking boots last week in recognition that we were going out more often and onto more difficult terrain. While the shoes I had had done me well in past hikes, it was time to move on up. This weekend we went out to the Sigurd Creek trail to break them in.
(Note: I've borrowed a few pics shameless from the
Club Tread
website from their
page on the Sigurd Creek trail
. It's a pretty good resource, check them out! :)
Swirling around in the back of my mind was my presentation for Akademy. Such presentations are kind of like wild animals roaming through my mind: the trick is less to author them than it is to grab them by the tail as they wander past. Which is to say, my best presentations are more a product of a creative process that happens beneath the conscious surface. I get to discover them already shaped and demonstrating what I want to communicate and how I might be able to do so. Allowing opportunity for the creative mechanisms to go to work is key: while happening "behind the scenes", it still takes effort, energy and time until it is ready for the conscious mind to stitch it together with the final phrasing and imagery. This may sound a bit odd, but I've found it's a more common creative process than one might think. :)
The Sigurd Creek trail seemed like a perfect opportunity to discover my Akademy presentation. Drenched in rain forest along a trail that would test my fitness and engage (and therefore distract) my physicality, what better time for the sub-conscious to throw out a leader line for me to grab onto. Off we went.
It was a three hour trek up through forests dripping with wet and greenery. Much of the hike was steep with an average grade of 18.5%. We clambered over a trail whose most clear markings were little bits of orange tape tacked to trees along the way. The trail on the ground was not immediately evident along the entire trek; in some places it was completely obscured by the usual forest debris and less usual windfall from recent storms. Given that the trail was not very wide or groomed to start with, this really added to the sense of being in the wilderness and therefore the overall experience.
Our group of eight trudged upwards, taking a short detour and subsequent snack break to enjoy Crooked Falls. We
stood on a bluff of rock covered in mosses and lichens
that, due to being opposite to and about a third of the way up the falls, are continuously bathed in the moisture of the crashing waters. As I stood in the endless wind pushed forward by the falls and feeling my hair grow wet in a mist of pure waters, I was reminded that
nature does not try to be beautiful, it just is
.
We continued up the trail towards our goal some 825 meters above where we started: the second peak. We passed great walls of rock with sheets of water running down in gentle showers along their length, feeding great vertical beds of moss and fern.
Skunk cabbages
were blooming everywhere in the marshy ground and giving off their distinctive scent. Even where the ground wasn't overtly wet, it gave slightly under each footstep, telling of the layers of leaves and other vegetation that were decomposing quietly and giving cushion between our boots and the soil. Flowers and mushrooms were scattered everywhere between and on the trees.
A healthy, thriving forest is, and must be, also constantly full of decay; it supports the abundance of life.
As we neared our destination, patches of snow started appearing between the trees. The last several hundred meters of the hike were mostly over these last snows of winter, with the peak itself glazed in a white cap. By the time we sat down for lunch, I had glimpsed the general shape of my Akademy presentation. It would be a series of short topical explorations linked together in the style of
koans
along a common thread of growth, opportunity, change, stability and a striving towards elegance. Some brush art for the title slides would be in order.
Eating bread, cheese, eggs and potatoes while our legs dangled over a rock outcrop that delivered a breathtaking view across a valley to another mountain covered in snow engaged quite busily in Spring melt, replete with multiple waterfalls cascading down the rocks and through the snow, I felt .. well .. good. The best feelings are often a bit anti-climactic that way: they are pure and simple and offer no grand words to capture them with.
The descent was, compared to the ascent, easy and quick. With thoughts of the presentation once again thrown below the surface of thought, I was carried away by the experience of wandering through an environment so rich, diverse and alive that I couldn't help but playfully imagine that I was walking through some ancient primeval environment in an era that predates our own existence. Breath in, breath out ...