A new feature release of the KDE Software Compilation has been made, bringing us to
version 4.4.0
. What a development cycle it has been! I won't bother recapping all the progress made, as you can read all about it in the above links.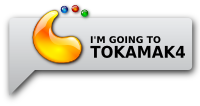 With Tokamak 4 coming up in just ten days and the new
KDE website
up on its feet but still getting lots of love, attention and work done on it, it is certainly a busy time for us all.
Things are not going to slow down one bit, though. :)
There are the predictable events, such as "we will be working on the first 4.4 patch level release as well as features and improvements for 4.5 which will appear this summer". There are also the to-be-expected happenings, such as the odd kerfuffle about this or that (today's one was about KAuth and what it means for Linux distributions such as Slackware). There's more afoot this week than just the usual suspects, though ..
For instance, today I'm working on tagging a first alpha release of Plasmate, the Plasma add-on creation tool, as part of an effort to move Plasmate to a regular release cycle with the ultimate aim of it being in fighting form for 4.5.
I'm also hearing rumblings of at least one very cool KDE event coming up in April that I'll be keeping my eyes on. It's exciting to see the number of quality KDE events growing around the world!
The most exciting thing for me today, however, is an announcement I'm working on that will be going out at the end of this week on February 12th. What is it about? We'll have to wait for Friday to find out for sure, but I do have something related to that announcement that I'd like to share with you right now:
KDE SC 4.4 comes with vastly improved and expanded Javascript Plasmoid support, and I'd like to personally introduce them to you. I will therefore be hosting open training sessions on both Friday and Saturday at 18:00 UTC on irc.freenode.net in #plasma-training. I will demonstrate, step-by-step and with examples how to write Javascript Plasmoids from the very basics on up. All you need to do is bring your enthusiasm, a text editor, a web browser, an irc client and hopefully a KDE 4.4 install to test your creations out with. Each session will last 2 hours, including an open Q&A at the end and you will walk away having written your first Javascript Plasmoids and I will be repeating the material on each day to give you the greatest number of opportunities to catch it. I hope to see you all there!