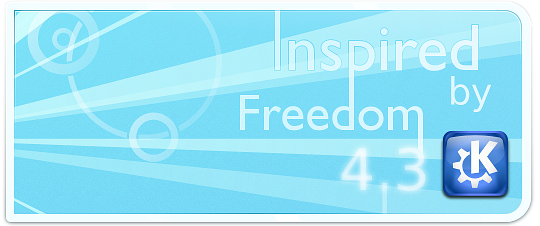 KDE 4.3.0 was released today after six months of diligent efforts and a lot of individual passion poured into artwork, translations, bug triage, community efforts, release management and, of course, code. The
release announcement
and
Jos' screencast
cover a lot of it, but the code name for the release also reveals something important: Caizen.
Kaizen
(spelling it "Caizen" is a little KDE tongue-in-cheeck humor ;) is all about continual improvement in all areas of an endeavor. It's a daily activity (something the SVN repository and bugs.kde.org certainly attests to!) that includes everyone. It's an all-encompassing and all-inclusive philosophy of reaching towards perfection one step at a time.
KDE 4.3.0 is a great release, packed with improvements on every front: features, bug fixes, stability improvements and optimizations. We wouldn't have achieved this in the 18 months since 4.0 if we didn't eat and breath continual improvement. It's very rewarding and enjoyable to watch that progress happen day by day as those around you add their incremental improvements to your own.
I've been watching an archeology series recently and I'm reminded of the great, and small, monuments in the past that were created by communities coming together. Barns raised, barrows dug, stones erected, villages growing outwards. It's such a natural human thing to create great structures together, it touches somewhere very deep.
That's the creator/contributor side of it. For our users, they can simply enjoy the ongoing improvements. They may get involved and join us in building this thing on day, but even if they don't it's great that they have tools that work for them.
Of course, we're not done. That just wouldn't be very kaizen. We're already hard at work on KDE 4.4 and looking constantly at ways of improving our processes as well as our code.
I hope you all enjoy KDE 4.3.0. (And the upcoming bug fix releases, one per month!)
Personally, I'll be laying down in a sleeping bag tonight as my house is now essentially packed up so that I can get to cleaning things out nicely before I leave for the coast and our new abode on Friday. S. booked her flight out the other day as well, so that's all figured out. The changes in my non-KDE life feels very concrete at this point, very real .. and all in good ways. :)
Love and hugs, aseigo.